CAUTION: Recent Forest Fire occurred in this area. DO NOT ENTER BURN ZONE AND CLOSED TRAILS!!! Some hot spots still exist and many dangerous burned & standing trees remain. Hiking, Mountain Biking & Dog-Friendly Trails can be accessed from the lower Golf Course Parking Lot.
Saturday Guided Hike: "Fires, Forests and Flowers" ~ July 7 @ 10:00 a.m.
Meet at 10:00 a.m. at the Golf Course Parking Lot for an excursion to learn about how wildfires affect plants and animals along the GLMRD Trail System. 2 hour moderate hike. Free to the public. Bring water, sunscreen, rain gear.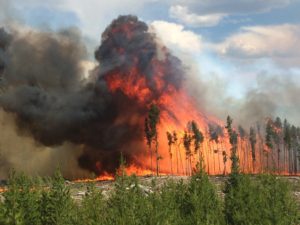 The Grand Lake Metro Rec District offers over 15 miles of scenic & dog-friendly hiking trails. Trails range from beginner to advanced and meander through lodgepole pine forests, among lush wetlands, and along the Colorado River. Many different species of plants and wildlife thrive here, due in part to the unique and biologically diverse habitat types and ecosystems. Habitat types include mixed conifer forests, aspen groves, willow carrs, kettle ponds, high elevation wetlands, and riparian zones along the Colorado River. See below for the trails map.
Be aware of downed, leaning and falling trees. Melting snow creates very moist soil: the perfect condition for both dead and live trees to fall. Lodgepole pine have very shallow roots, so take caution, especially on windy days when trees fall more frequently. Also watch out for wildlife: bears are emerging hungry from hibernation, and moose and elk are calving, making the females exceptionally dangerous as they defend their young. When all else fails, DON'T MESS WITH THE MOOSE!!
Many species of wildlife can be found here, including:
Moose, elk, mule deer, coyote, fox, river otter, black bear, mountain lion, lynx, bobcat, pine marten, ermine, porcupine, skunk, snowshoe hare, cottontail rabbit, jack-a-lope, golden-mantled ground squirrel, least chipmunk, raccoon, beaver, chorus frog, garter snake and many species of birds and insects.
GLMRD is now on eBird! To check it out, go to http://eBird.org and go to the Hotspot Grand Lake Metropolitan Recreation District. If you'd like to help by entering your own bird counts, please do so, but be careful to only enter bird species that you or someone knowledgeable about birds has 100% positively identified the species. Just enter your info under the GLMRD location and it will count. Let's get the word out that Grand Lake is for the birds!
---
CHECK OUT OUR UPDATED HIKING & BIKING TRAIL MAP!