Trails and Disc Golf are

Closed for the Winter!
Hiking and Mountain Biking Trails are open only in the Summer and free to the public.  Our new 9-Hole Disc Golf Course is also FREE! Once the Nordic ski season starts, a trail pass is required to use the ski and snowshoe trails.  The Nordic Center plans to open December for the season.
---
---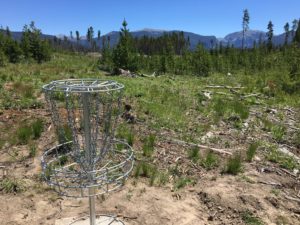 There is more than just golf to enjoy here at the Grand Lake Metro Rec District!  We have developed miles of scenic hiking, mountain biking AND…Dog-Friendly Trails! There are a variety of distances and difficulty levels, from short loops to a 6-mile round-trip hike/bike, several picnic areas scattered through the trail system, and a bridge that spans the headwaters of the mighty Colorado River.  The trails wander through various habitats, including lush and diverse wetlands covered in pond lilies, lodge pole pine forests mixed with spruce and fir trees, lovely aspen groves, and the Colorado River, one the largest rivers in the US and the most important river to the desert southwest.  With an estimated total of 15 miles of trails we have something for everyone to enjoy!
Please Note: The trails are available on a seasonable basis. During the winter months they are used for the Nordic Center skiing and snowshoeing trails and a trail fee is required.
Beautiful hike!  This was our first time in the area, and we hiked to the river.  Our dogs loved being in the woods and playing in the water.  We even saw several moose near the wetlands!"  ~ Dave and Colleen from Denver
We have many species of birds, wildlife and plants!  Please respect all plants and animals, and above all… DON'T MESS WITH THE MOOSE!  Read the following for a list of some of the animals you might find here:
Moose, elk, mule deer, black bear, coyote, fox, mountain lion, bobcat, lynx, porcupine, pine marten, cottontail rabbit, snowshoe hare, tree squirrel, golden mantled ground squirrel, least chipmunk, among species of birds.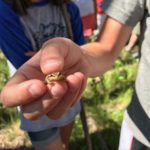 Have an idea for a program, or want to get involved?  Email Trails Manager Don Campbell at donc@grandlakerecreation.com.
Trailhead/Parking:
Take US Hwy 34 North toward Rocky Mountain National Park and Grand Lake. Go past the entrance to the town of Grand Lake for approximately ¼ mile, and turn left on County Road 48 – Golf Course Road. Go one mile and look for trail head parking on the left.
PICKLEBALL AND TENNIS
Grand Lake Metropolitan Recreation District is proud to offer a variety of recreation opportunities for children and adults, in addition to our outsanding golf and Nordic skiing. Find out more about Adult Picklelball and Tennis . . . 
Thanks for creating bike and dog-friendly trails. I've been here ten plus times and I keep finding more routes to take! – Steve