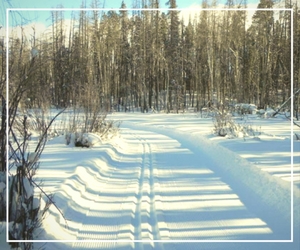 Nordic &  & Snowshoe trails
Season Pass Holders can ski anytime. No services will be available on Tuesday & Wednesday
Winter Trail Descriptions
At the Grand Lake Nordic Center, we strive to provide ski trails with a variety of difficulty, excellent grooming and of course beautiful scenery and a fun time! Following is a description of our trails, listed in order by number, to help you decide where to go. Trails are listed as easy, moderate, and advanced. Trails are groomed daily  (Except Tuesday & Wednesday) for classic and skate skiing. Keep in mind trail signs are marked by their name, not number. If you find yourself on a hill that is too hard for you to ski you may take off your skis and walk up or down the hill, on the side of the trail.

Staff Favorites:
1. Easy: Short Cut to Randall's Romp Loop
2. Intermediate: River Run
3. Advanced: Ptarmigan Tuck
Dog Loop:
Easy 4 Km. of trails for your four footed friend.
Your dog can be off leash if he plays well with others and is under voice command.
Winters Way & Columbine
Winter's Way; Easy, 3.7 Km:
Nice relatively flat terrain with some hills.
Trail heading north from lodge is flat, good for beginners both classic and skate skiing; avoid the hills by skiing back and forth along the flats.
You can loop back to lodge or connect to Randall's Romp for a longer tour.
Winter's Way Connection; Intermediate; 0.4 Km:
Add a little extra distance and some fun hills to your tour.
Short Cut; Easy; 0.5 Km:
This trail is just what it says, a short cut back to the lodge.
Flat terrain through a wetland with an aspen grove and lodge pole pine forest.
Heading southeast from the lodge on Randall's Romp and coming back on Short Cut makes a nice 45 minute loop that is great for beginners.
River Run Connection; Intermediate; 2.3 Km:
Head up the hill from the parking lot to take a short cut to the Colorado River.
This trail with rolling hills intersects several other trails.
River Run and Loop; Intermediate/Advanced; 2.3 Km:
First part of this trail (from Ptarmigan Tuck) is hilly with sparse lodgepole pine.
Follow the trail to ski alongside the Colorado River and cross the Bridges to ski the loop.
Look for signs of moose, otter and other wildlife using the river and riparian areas.
Randall's Romp; Intermediate; 4.5 Km:
This is the main loop; start and finish this trail at the Lodge.
This is the heart of our trail system; almost any other trail can be accessed from Randall's Romp.
We recommend going counter clockwise, as this will give you more downhill; to do this, start at the hill across from the parking lot.
This trail makes a nice loop through lodgepole pine forest; you will pass our fire pit used during Full Moon Ski events, and then veer southwest, skiing for a short distance along the Colorado River.
 A long, moderate hill offers a thrill, bringing you to some of our private lands owned by the Reed and Warner families.
As you continue around, several other trails, mostly advanced, intersect Randall's Romp, tempting you to explore your adventuresome side.
Hime's Sight; Advanced; 1.9 Km:
Clockwise sends you uphill for a good warm-up; counter clockwise gives you a fun downhill to finish.
The trail goes through lovely lodgepole pine forests and passes by several wetlands.
Janice's Jaunt; Advanced; 2.0 Km (This is no jaunt!):
One of our more advanced trails, we recommend a clockwise direction for a good climb then even better downhill.
This trail is one of few to offer a spectacular view of all three lakes, as well as the surrounding Indian Peaks of the Continental Divide
Reed' Run; Advanced; 1.1 Km:
This is a fun, winding trail with hills and is mostly forested
Private land please be respectful
Spirits Haunt; Advaned; 1.2 Km:
This is another favorite, great if you want a challenge with view of Byer's Peak and the Indian Peaks
Roller Coaster; Advanced; 1.4 Km:
A favorite of Janice's, she nicknamed this the "Roller Coaster Trail" and recommends an east to west direction for more downhill.
TRAIL HIGHLIGHT: RANDALL'S ROMP
Randall's Romp is the main lop and heart of the Grand Lake Nordic trail system. One of our most popular trails, this loop train begins and ends at the lodge. Almost any other trail can be accessed from Randall's Romp. We suggest taking this trail in a counter clockwise direction, as this gives a few more downhill sections. To do this, go up the hill across from the parking lot. Go down the hill and turn right. You will pass our fire pit, used during Full Moon Ski events, and then pass Winter's Way and Ptarmigan Tuck. Turning south (left), you will pass River Run and River Run Connection. Continue on Randall's Romp where a long, moderate hill offers a thrill, bringing the trail onto some of our private lands owned by the Reed and Warner families. You will pass Rhone's Hideaway and Reed's Run. The trail then intersects with Spirits Haunt to the left or Janice's Jaunt to the right. Continuing on, pass Short Cut and Hime's Sight to return to the Lodge. Enjoy the fresh mountain air and the beauty and peace of Colorado in the winter. Have a great ski!