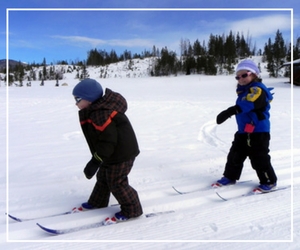 FREE LESSONS FOR CHILDREN
Grand Lake Nordic Center offers FREE kids lessons on specific Fridays during the Nordic season. Lessons are one hour-long and are for kids ages 3 to 8. This is the perfect age to get your child coordinated on cross-country skis! Please sign up in advance at the Nordic Center or call 970-627-8008 to sign up or for more information.
LESSONS FOR ADULTS
Lessons covering all skill levels are available for people of all ages and experience. We offer hour-long lessons for both classic and skate skiing.Lessons can be private, with one-on-one attention for a single person, or group lessons for 2 or more people. Private lessons are$30, which includes a trail pass for the day, and group lessons are $20 per person and also include a trail pass. Rental equipment is available for $15.
Lessons are a great way to learn how to cross country ski if you've never done it before, learn how to snow plow downhill and herringbone up hill, or take an intermediate lesson to improve your skills, such as step turn and other refining techniques. Please call the Nordic Center in advance to reserve a day and time: 970-627-8008.
We have been coming here for many years and learned to ski here. We are now teaching our kids and they love it too. Thanks for everything! – Harry