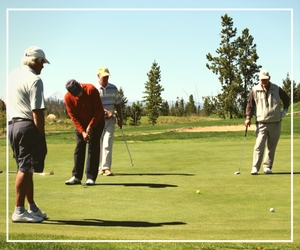 The Men's Club is a golfing group for men of all skill levels. It is an excellent opportunity to play the beautiful Grand Lake course and meet some new friends. If you are a golfer, and don't have a handicap established, this is an opportunity to do so.
Our tournament director, Lorin Nessan, is once again creating an exciting schedule of events for this summer.
In addition to our tournaments, we play the Estes Park Men's Club and the Steamboat Springs Men's Club at their courses, and they travel to Grand Lake go play our course.
Our annual dues are cover the Colorado Golf Association fees and the handicap fees. For more information or to join the club please contact Brian Grove, Men's Club President at briangrove48@yahoo.com or by phone at 303-216-0762.