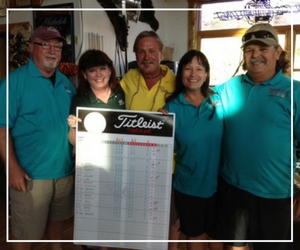 A great variety of events and tournaments are offered all summer at the Grand Lake Golf Course.  Events are also listed on our calendar page.
Upcoming events this summer include the 18th Annual Pancho & Lefty's Golf Tournament on Saturday, September 14, 2019 to benefit Mountain Family Center – Cancer-Related Services.  Cost is $100 per player and includes: Free Taco Bar and Social Friday night at Pancho's, 10:00 a.m. Shot Gun Start, round of golf with cart, Box Lunch, numerous prizes and contests, and Awards Party Saturday night at Pancho & Lefty's.  Call Bob King at Pancho's at 970-627-8773 for more information and to register. Click here to print out a Pancho & Lefty's Tournament Registration Form.
Free Kid's Group Lessons began Thursday, June 14 at 9:00 a.m. and will continue throughout the summer.  Lessons are for kids ages 7 to 18.  Call the golf shop for more info at 970-627-8008.
Adult Group Lessons will be every Monday at 11:00 a.m.  Starting Monday, June 4th, lessons will focus on a different technique each week.  The first lesson will be about putting.  Group lessons are open to the public, no reservations needed.  Group lessons are $10/person.